Whether you have a professionally installed above-ground pool or a DIY easy-set-up pool from a big box store, one thing is certain; a large vat of water dropped into your backyard can look out of place. However, it can become a peaceful backyard oasis with some landscaping. Let's look at a few do's and don'ts of landscaping around your above-ground pool.
You might ask, "Why can't I just let the grass grow up next to the pool?" That seems like a simple solution at first, but that grass will need to be cut. You will have to power up the weed whacker to cut the grass around your pool since a mower will not get close enough to do the job. String trimmers will eventually wear away the epoxy coating on the pool walls shortening the life of your pool. Most professional pool installers will advise that you do some sort of landscaping to extend the life of your new pool.
Plants or No Plants
Planting a line of evergreen shrubs/bushes can provide a natural privacy fence. This will also create a soft visual transition from yard to pool – even in the winter months. Planters filled with your favorite annuals can add a pop of summer color to your landscape.
You should use plants that are resilient to the occasional ball or pool toy bouncing on top of them. They will undoubtedly have lots of chemically treated water splashing about, and they should be able to tolerate the heat of the sun since you most likely positioned your pool to soak up a lot of sunshine. Avoid plants with thorns or ones that drop leaves and/or blooms in the pool. While the danger of a plants' roots puncturing the pool liner is slim, they can cause the liner to get bumps if the plant has a shallow, wide-spreading root system. With a little research, you can find bushes or trees that have roots that grow down, rather than spreading out.
However, landscaping around your above-ground pool does not mean you have to come up with a perfectly coordinated plan of designer plants. If you prefer not to plant bushes/trees/shrubs, you can create an attractive transition from yard to pool that is low-maintenance and effective by using traditional landscaping materials.
Mulch or Stone
Mulch is a wonderful landscaping product in the right application, but it is not well-suited for use around your pool. It can get blown into the pool on a blustery day or unintentionally dragged into the pool on the bottom of wet feet and pool toys. If you choose to go with mulch, be sure to create a pathway for swimmers to use so they do not track through the mulch.
Decorative stone is the ideal material to surround your above-ground pool. Wind is unlikely to blow around the landscaping rocks. A walkway will also be needed in this application, but you will not have to worry about the decorative rocks being tracked into the pool if you use the larger variety. Most rocks will not break down over time and will not need to be replaced each season, unlike mulch. Rainwater will be dissipated by the layer of rock around the perimeter of your pool wall. A hard rain is less likely to carry off landscaping stone.  The stone also helps avoid ruts around and under the pool, which can also cause bumps in the liner.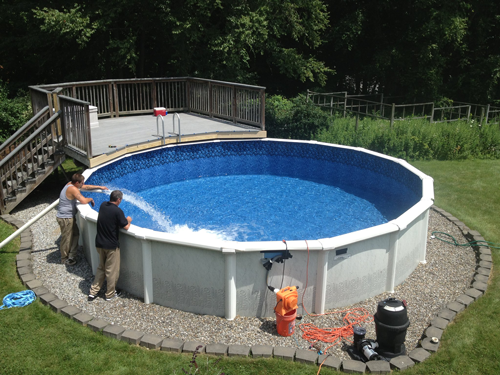 Photo by Chris Grazioli on flickr [CC BY 2.0]
You can find a large selection of landscaping rock at Wilson Blacktop. There are several sizes and various colors available to match the aesthetic of your home.
Steps for Landscaping Above-Ground Pools
The application of the mulch or stone begins in the same way; prep the ground. Install a landscape edging to contain the mulch/stone and keep the grass out. After you plant the bushes/trees/shrubs, rake and smooth the dirt surrounding the pool. Then put down a layer of weed-control fabric, cutting around the newly installed plants. Finally, add the mulch or decorative rock and enjoy the results.
Wilson Blacktop offers quality mulch and decorative rocks for your above-ground pool landscaping project. Give us a call to schedule delivery today! 740.635.3566